12v Lithium-Ion battery pack – PowerBrick+
[two_thirds]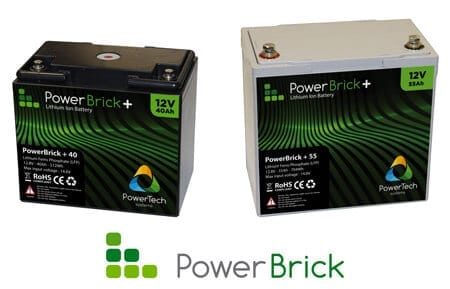 PowerTech Systems offers a range of 12V Lithium-Ion battery pack to meet most of our customer needs (up to 48V). PowerBrick®+ battery offer a high level of safety through the use of cylindrical cells in Lithium Iron Phosphate (LiFePO4) technology.

Each PowerBrick®+ embeds a BMS (Battery Management System) inside its casing.

PowerBrick®+ solutions advantageously replace lead batteries, offering more than doubled capacity for half weight and footprint.

Each battery has a 12.8V nominal voltage and can be assembled in series (4S maximum) and parallel (10P maximum) to reach operating voltages from 12V, and up to 48V..

For applications requiring higher voltage or energy, see PowerModule advanced systems.

PowerBrick+ battery is enclosed in a sealed ABS case, resistant to moisture and dust (IP 55 or IP 66).

PowerBrick+ are lightweight, reliable and environmentally friendly solutions for multiple usages. These batteries can take place for direct Lead-Acid batteries replacement.

Even if battery charge can be performed by most Lead-acid chargers, we advise to use a dedicated Lithium-ion charger.


[content_box style="royal-blue" title="Key facts"]
12V battery pack - Lithium Iron Phosphate (LiFePo4)
Nominal voltage : 12.8V
Serial assembly can range from 12V to 48V (4S max recommended)
Parallel assembly up to 10P (10 PowerBrick+ in parallel)
Minimum 3000 cycles at 80% DOD
High safety with advanced built-in Battery Management System
Compatible with most Lead-Acid chargers
Robust design in an isolated and waterproof case (IP 66)
Operating temperature in charge : 0°C à +45°C at @60±25% relative moisture
Operating temperature in discharge: -20°C à +60°C at @60±25% relative moisture
Sealed case (IP 55 or IP 66 protection)
100% maintenance free
RoHS et UN38.3 certification
[/content_box] [/two_thirds] [one_third] [content_box style="royal-blue" title="Select 12V PowerBrick
+
model"]
[/content_box] [content_box style="royal-blue" title="Select 24V PowerBrick
+
model"]
+
model"]